Headphones or speakers are highly recommended, for audibility of all frequencies
ICD-10 F43.2 is used to code adjustment disorders, according to the International Classification of Diseases (ICD-10)
The soundwork was created during the long lockdown until March 2021 and is generated by intensly modulated fieldrecordings only.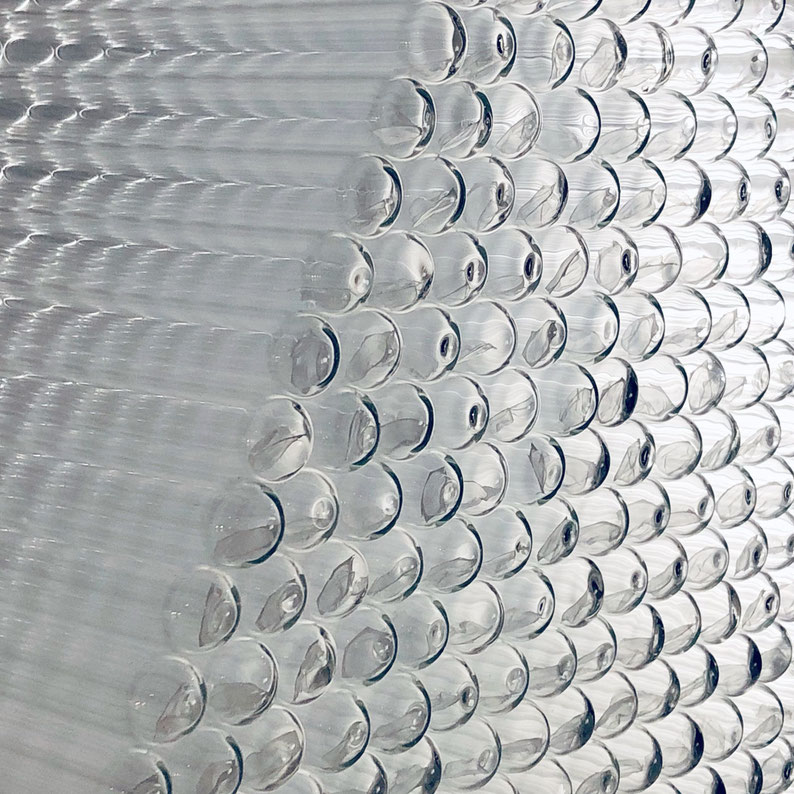 300 Reagenzgläser, 300 Luftpolsterfolien-Luftkammern, Kupferdraht
Das Tau ist der 19. Buchstabe des griechischen Alphabets und hat nach dem milesischen System den Zahlwert 300
300 testtubes, 300 bubblefoil-airbubbles, copperwire
Tau is the 19th letter of the Greek alphabet. In the system of Greek numerals it has a value of 300
Photo: Gaëtan Aguado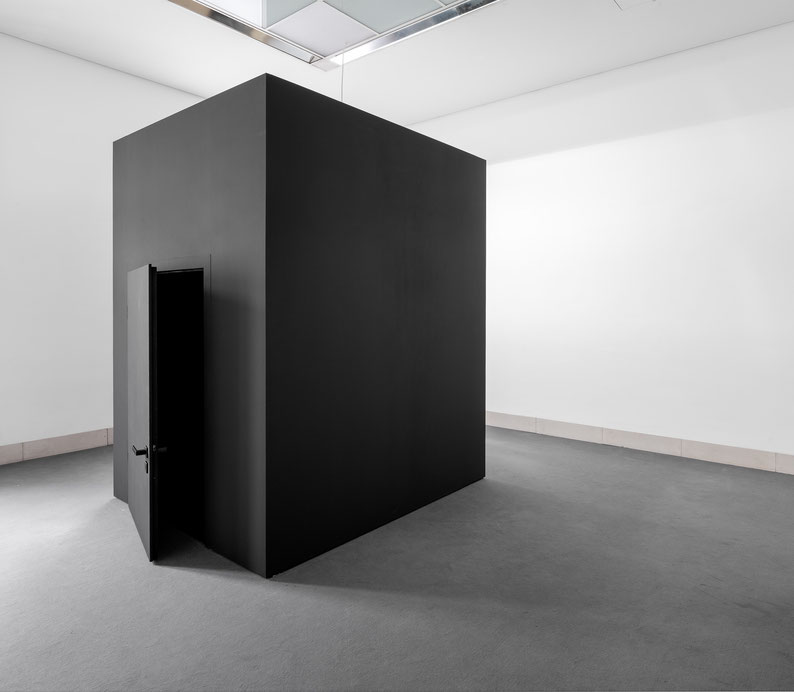 Installation, 2020
wood, black pigment, 150 x 180 x 210 cm
5.1 sound installation, 09:45 min. approx
exclusively created for the show BEYOND THE PAIN at Galerie Stadt Sindelfingen - Photo: Henning Krause
Video HD
loop (05:58 Min.)
ohne Ton / no sound
Ausschliesslich aus mit Plastikflaschen erzeugten Tönen und Fieldrecordings von Meeresgeräuschen generiert.
Exclusively created with sounds generated by plasticbottles and fieldrecordings of the sea.
Video HD, 3 Kanal
loop (4:15 / 4:26 / 5:45 min)
ohne Ton / no sound
 Installationview SCLERA exhibition, Microssage /Galerie Hausgeburt, Stuttgart - Photo: Gaëtan Aguado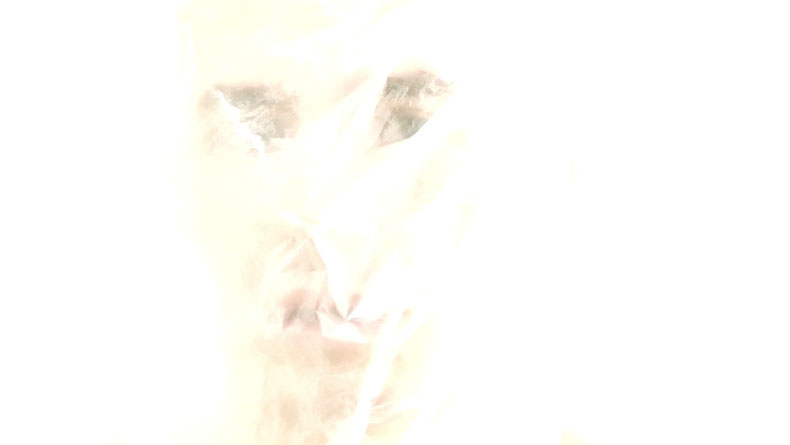 Video HD
projection
loop (0:04:30)
ohne Ton / no sound
Performance near Glass Beach at Fort Bragg, California, USA, 2018
Photo: Gaëtan Aguado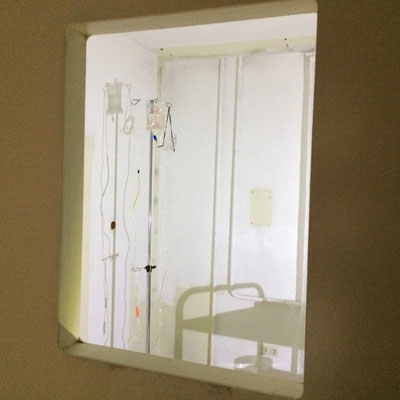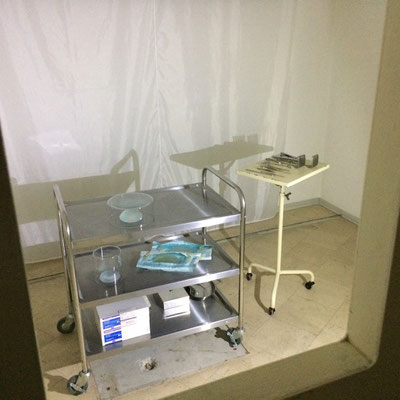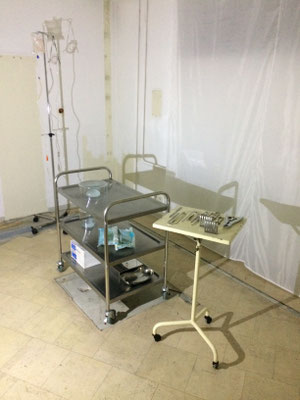 "o.T. (Praxis)", Installation, 2017
Infusionszubehör, Atemmaske, Metallrollwagen, antiker Arzttisch, Op-Besteck, abgelaufene und gebrauchte Silikon-Brust-Implantate
Praxis - temporärer Projektraum (ehemalige Arztpraxis), Stuttgart
 Zur Finissage, öffnet sich die Tür und aus der Installation heraus entwickelt sich die Performance  "Sinnlose Tätigkeiten mit großer Sorgfalt ausgeführt V, Nr.1"
"untitled (Praxis)", installation 2017
infusion equipment, oxygen breathing mask, stainless steel trolley, vintage medical instruments table, surgical instruments, expired and used silicone breast implants
Praxis - temporary project space (former doctor's office), Stuttgart
For the finissage, the door opened and out of the Installation emerged the perfomance "Senseless activities, carried out with great diligence V, Nr.1"
Installationdetail after the performance - Photo: Oliver Hermann
o.T. (1/2 Stock), 2014
Installation in Kooperation mit Oliver Herrmann
Beamer, Laptop, Webcam, Aktivboxen, Nylonfaden, Bewegungssensor

1/2 Stock, Stuttgart
Die Installation wird durch das Publikum aktiviert: Auf dem Weg zum blau strahlenden Licht aus dem Versorgungsschacht
unter der Treppe im Ausstellungsraum wird durch das Passieren einer Webcam das Video ausgelöst.
untitled (1/2 floor), 2014
Installation in cooperation with  Oliver Herrmann
Beamer, laptop, webcam, active speakers, nylon thread, motion sensor
1/2 Stock, Stuttgart
The installation is activated by the spectator: On the way to the blue shining light in the supply shaft under the stairs, passing a webcam initiates the video.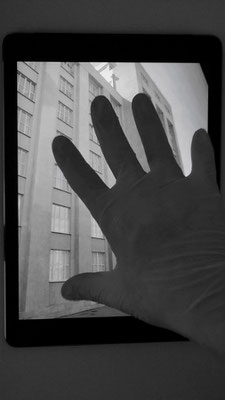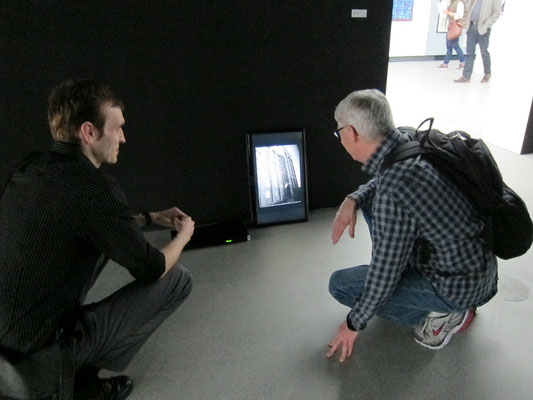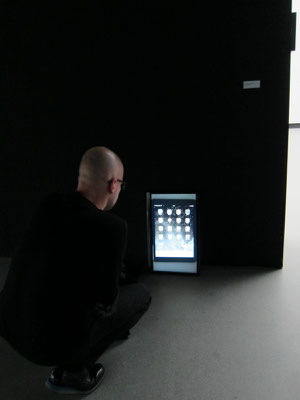 Video HD
11 sec. loop
ohne Ton
Württembergischer Kunstverein 2014.2041 ENDLOSSCHLEIFE
Der Titel, ein an das englische Tempus future perfect angelehnte Wortspiel, verweist sowohl auf Orwellsches "Neusprech", als auch auf durch neue Medien und soziale Netzwerke beeinflusste "Sprach(ver)form(ung)en" und hinterfragt zugleich vergangene und aktuelle (Zukunfts-)Visionen.
Ein ipad wird mit den typischen Handbewegungen bedient. Ein Foto eines Gebäudes wird geöffnet und  (mit der nur auf dem ipad möglichen Geste) wieder geschlossen, dahinter, auf dem Display, sind diverse App-Icons, darunter auch das von facebook, zu sehen.
Durch die Entsättigung der Farben und die in einem Einweglatexhandschuh steckenden Finger wird dieser kurze, heute ganz normale, Vorgang bewusst verfremdet. Die Verschiebung von Hightechhochglanzoptik richtung Unbunt und die Anmutung einer Laboranalyse, durch den antiseptischen Latexhandschuh, transferiert  den Vorgang in einen indifferenten Zeitraum, der selbst schon "historisch" sein könnte.
Das Gebäude auf dem Foto, der Schnappschuss aus dem Bus, ist der ehemalige Hauptsitz des KGB in St. Petersburg (damals Leningrad).
Das Icon der facebook-app dient als Verweis auf den Themenkreis social networks, die ein Ende des bis dato gängigen Verständnisses von Privatheit einleiteten. Das Ipad steht symbolisch für einen der global agierenden Konzerne, der einen fast religiösen Technikfetischismus bei seinen Jüngern auslöste, und durch die Versorgung mit teuren optisch ansprechenden Geräten zugleich den Benutzer auch immer mehr überwacht und entmündigt.
Und dass Internetnutzung und Mobilfunk eine akute Gefahr für Manipulation und Missbrauch bergen, ist spätestens seit dem NSA Skandal bekannt.
Verschiedene Ebenen, sowohl optisch, als auch inhaltlich, verschmelzen zu einer absurden "neuen alten Welt", die sowohl Überwachungsstrukturen als auch gegenwärtigen Umgang mit Datensicherheit und Privatsphäre in Frage stellt.
Video (4:3) / paper-collage
digital frame
loop (0:08:00)
ohne Ton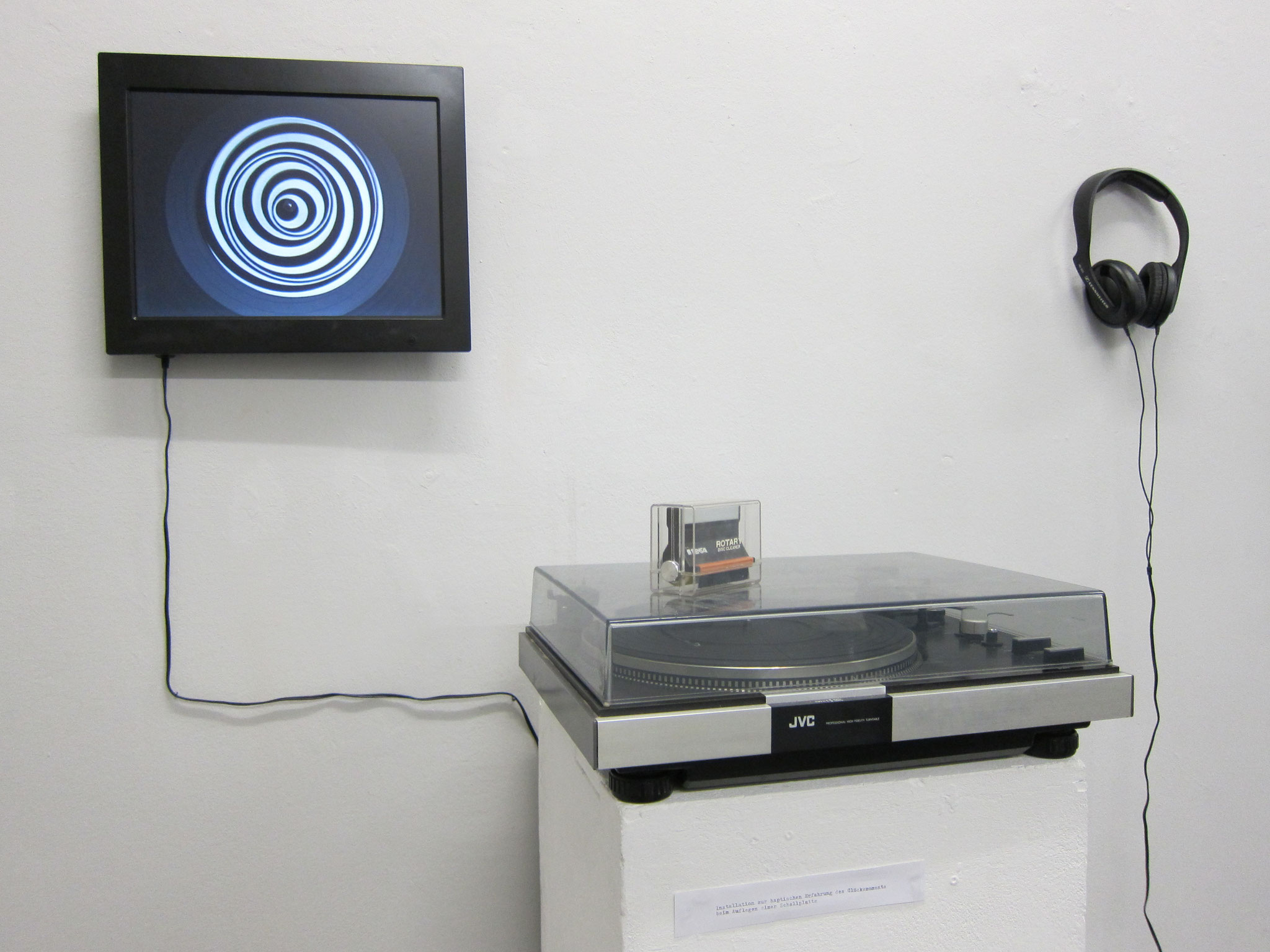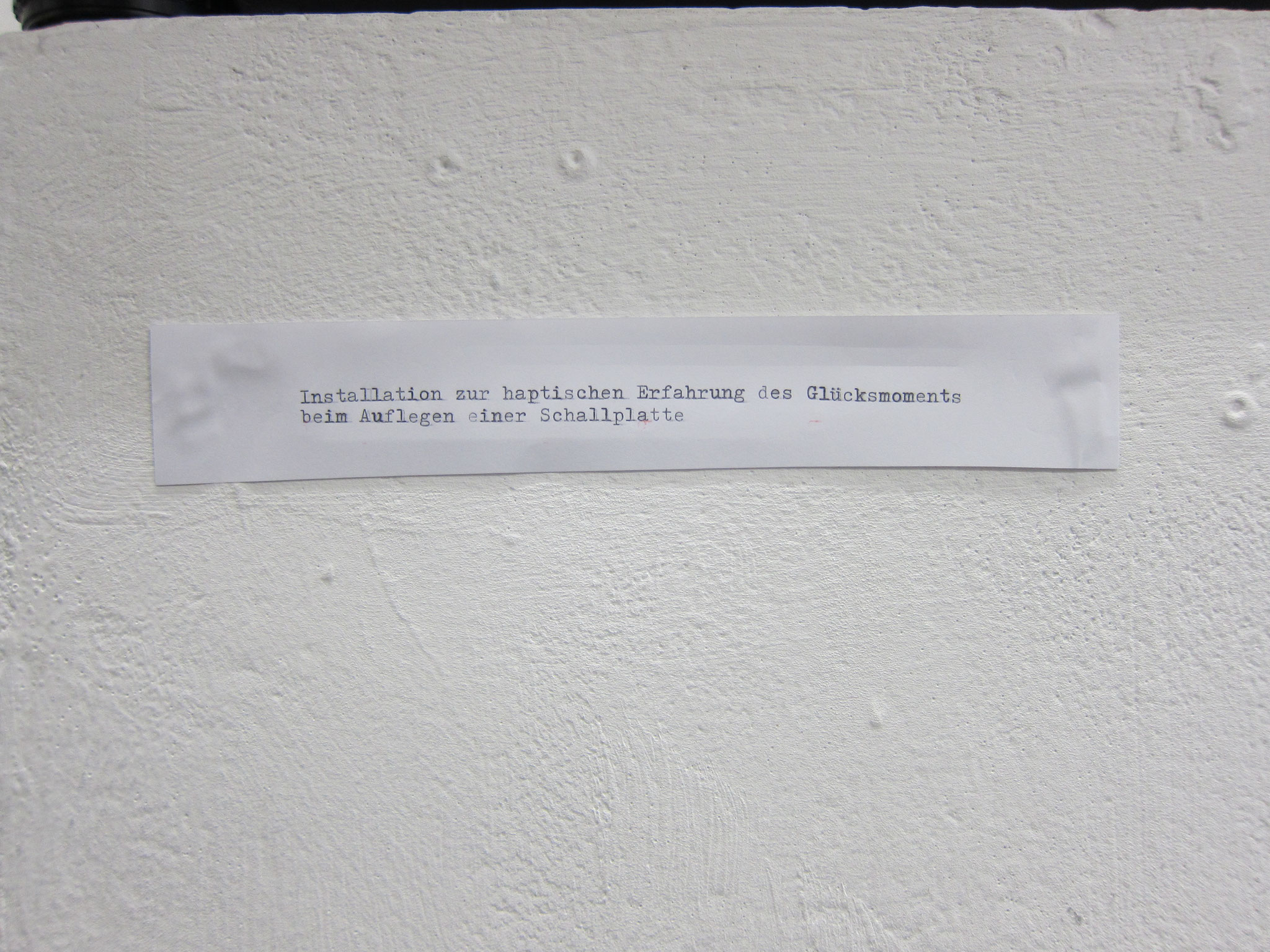 Diese Arbeit wurde eigens für die "Wunderkammer Vinyl", 2014 in der Oberwelt e.V., Stuttgart konzipiert. 
Das Triptychon widmet sich den drei Sinnen, welche für die sinnliche "Erfahrung" des Phänomens Vinyl von entscheidender Relevanz sind: Optik, Haptik und Akustik.
 links: "Rotorama" (hommage) . videoloop - digitaler Bilderrahmen
 mitte: "interaktive Installation zur haptischen Erfahrung des Glücksmoments beim Auflegen einer Schallplatte"
Plattenspieler, Plattenbürste, Schallplatten, Verstärker, Boxen
rechts: Soundloop . Kopfhörer, mp3player
This work was especially designed for the show ""Wunderkammer Vinyl", 2014  at Oberwelt e.V., Stuttgart.
The triptych is dedicated to the three senses wich are of essential relevance for the sensual experience of the phenomenon "vinyl":
optics, feel and acoustics.
left: "Rotorama" (hommage) . videoloop - digital frame
middle: "interactive installation for tactile experience of  the moment of happiness playing a record"
recordplayer, amplifier, speaker, records, vinyl brush
 right: soundloop . headphones, mp3player
Blackscreen - in unbekannten Abständen flimmern nur für Sekunden Bildsequenzen mit oft durchdringendem Sound auf -
Blackscreen - in an unknown rhythm, just for some seconds, different sequences (with an often disturbing Sound) appear -
Video
loop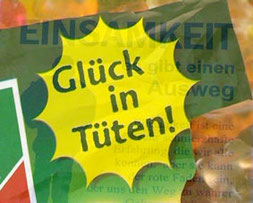 I.  GLÜCK IN TÜTEN
Video
0:00:33
ohne Ton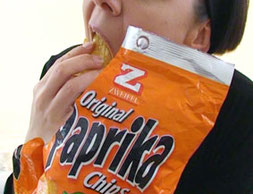 II. ZWEIFEL VERNICHTEN
Video
0:02:10
ohne Ton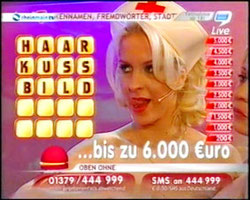 III. EIN BESCHAULICHER SPÄTER FREITAG ABEND IM DEUTSCHEN FERNSEHN
(man soll den Tag nichtvor dem Abend loben ...)
Video
0:08:54
ohne Ton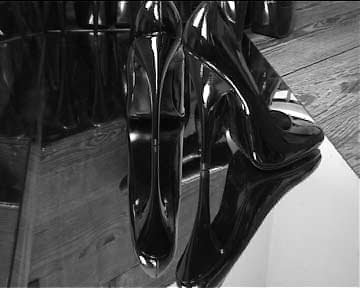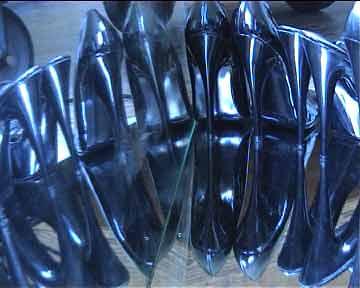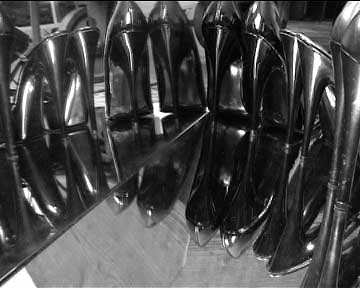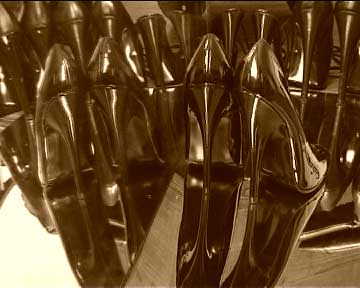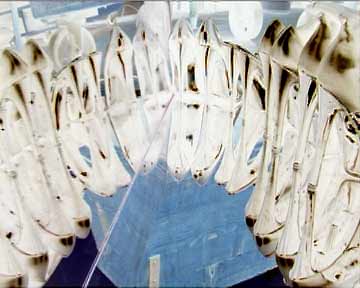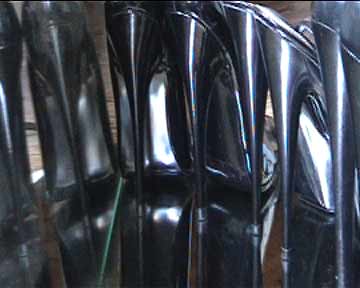 3 temporäre Skulpturen (HighHeels & Spiegel)
3 temporary sculptures (high heels & mirrors)
Video
ohne Ton
heelssculpture 1, 0:03:55
heelssculpture 2, 0:02:53
heelssculpture 3, 0:03:48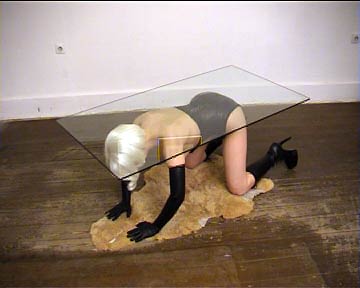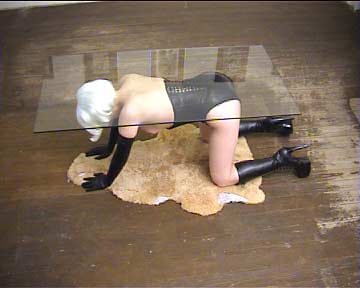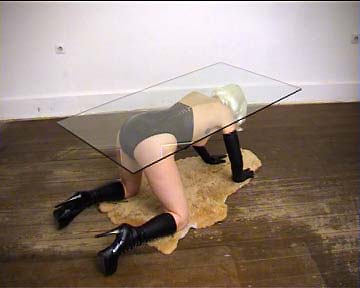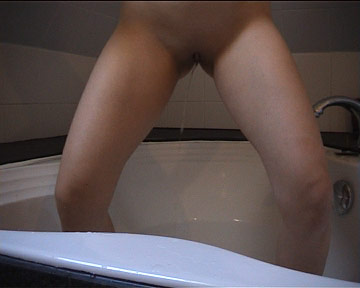 Video
0:00:40
Because of an unintended way of perception of a large scale of the (male) audience, this video was removed from the web.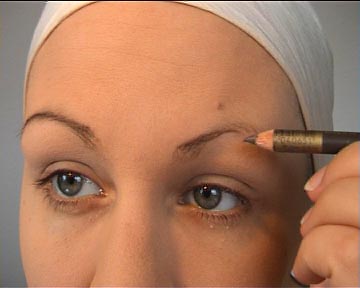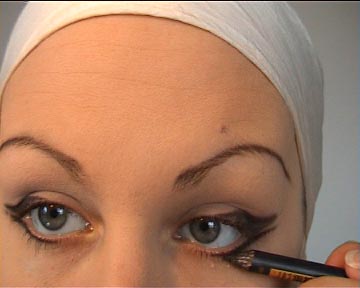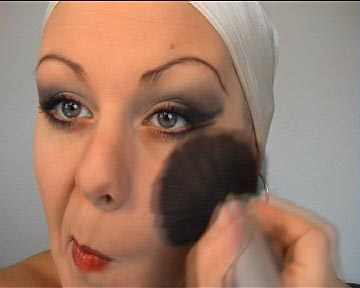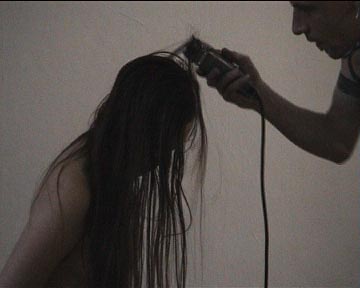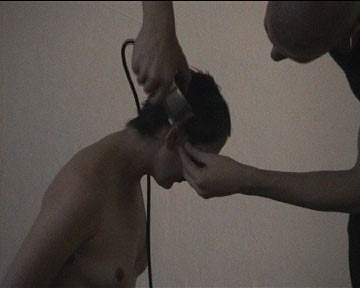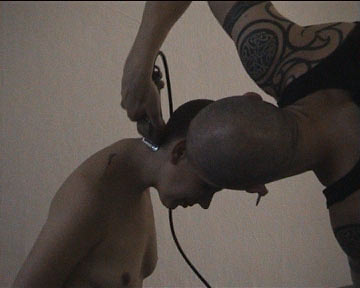 Video
0:36:52  (slowmotion)
ohne Ton